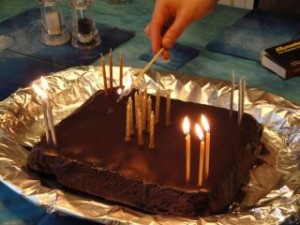 A yummy chocolate brownie that is suitable for some and very useful as a birthday cake. Please check the ingredients very carefully and adapt if it is not suitable for your needs. Feedback on successful tips will be posted.
Ingredients:
300 grams 70% plain chocolate
150g unsalted butter or substitute
4 large organic eggs
200g caster sugar
A baking tin approx 10"x8"
Preheat the oven (gas 4, 180C or 350F). Gently melt the chocolate with the butter stirring constantly. Allow to cool a little. Beat the eggs, add the sugar and beat till light and frothy. Fold into the chocolate mixture stirring well. Pour into the greased and lined baking tin, smooth over if necessary and bake for 25 minutes approximately. Do not overcook as you want it to be fudgy. Leave to cool. For an extra treat, melt 50g of 70% chocolate with 125g of unsalted butter and pour over the top. Leave to set. Then either serve whole (as the birthday cake in the picture or cut into 12/16 slices (depending on your needs!). Please feel free to adapt.